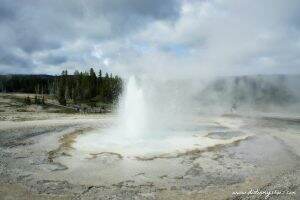 From the geysers, hot springs, and pools to the lakes, forests, and wildlife, Yellowstone National Park has something to excite every visitor!
As a kid, I dreamed of visiting Yellowstone and have fond memories of the experiences I had there with my family.  I used up rolls and rolls of film taking pictures of the buffalo, bears, and elk that posed for us along the side of the road.
I'm a hiker, so of course I'm going to include a couple of hikes in this list.  If you want MUCH more information on these and other things to do in Yellowstone, as well as driving directions, helpful hints, and in-depth descriptions, please visit my website Dirt In My Shoes.
Here are my top choices for the most family friendly things to do in Yellowstone National Park!
1.  Old Faithful
No other place in Yellowstone is as iconic or well-known as Old Faithful, and for a good reason.  A stop at Old Faithful will be something you and your family will always remember!
2.  Secret Hike to Little Gibbon Falls
Even though Yellowstone is notorious for its crowds, believe or not you can find solitude just by hitting a trail (one that's not paved or boardwalked of course).  Experience some much needed "nature time" on this short hike to a secret waterfall.
For more information about this trail, read about this Secret Hike In Yellowstone National Park.
3.  Mud Volcano Area
Visit thermal features such as the belching Dragon's Mouth, the bubbling Mud Volcano, and the rotten Sour Lake on this tour of some of Yellowstone's most unique and thrilling hot spots.  Your kids will love all of the action in this area….its not just boring pools of hot water!
4.  Pelican Creek Nature Trail
The Pelican Creek Nature Trail provides stunning views of Yellowstone Lake and the nearby mountains, all while providing an escape into a beautiful forest of trees and wildlife.  This trail has little to no elevation gain and is perfect for a short family hike.
5.  Artist Point
To get the classic Grand Canyon of Yellowstone picture, head to Artist Point.  From here, you will have sweeping views of the canyon and will see first-hand how Yellowstone got its name.
What are your family's favorite spots in Yellowstone National Park?