AdventureMomTV is excited to welcome Kristin Sokol, our first Corespondent mom, reporting on an incredibly fun limited time opportunity for local Utahns.  Welcome Kristin–Tell us your adventurous news!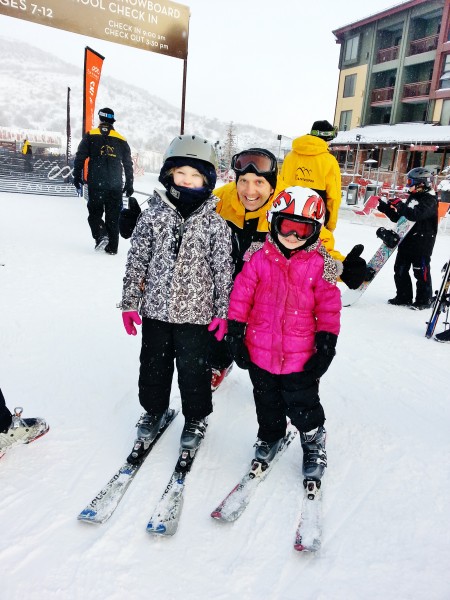 Hello everyone!  I'm so excited to be a part of AdventureMomTV.  It's thrilling to think of all the new family friendly adventures will find in this unique community.  This first post is one of the most exciting adventures of the season.
Every Adventure Mom NEEDS to know that January is Learn to Ski and Snowboard Month sponsored by SkiUtah.com.
What this means to every you is there are INCREDIBLE deals to be had at EVERY Utah resort for new skiers.  If you're not near Utah, similar deals can be found at resorts around the country here. January is the perfect time to learn to ski at any age.
I just started just a few years ago at the ripe age of 31.  It's never too late to learn. On the flip side, it's never too EARLY to learn to ski either.  One of my favorite things about skiing is watching tiny pint-sized skiers tearing up the slopes before they're even five-years-old.
All you need to do to get in on this month's specials is decide which resort offers the deal for you and/or your kids.
This Adventure Mom took advantage of Canyons Resort's Learn to Ski deal.  They offered an all-day lesson and lunch for $39 and it INCLUDED rentals too.  It was such a steal that we packed up our little both our girls (ages 4 and 7) and convinced a few neighbors to joins us too.  Together, we all headed up to Park City to get our ski on!
Despite the freezing temperatures, we had an incredible time!  If you'd like to see a full report of our day's adventure at Canyon's resort, hop on over to my blog, TheVocalSokol.com.
It's not too late, but there's no time to waste to get in on the January ONLY great ski deals in Utah. Most resorts require an advanced reservation, so give them a call today!
Correspondent End Note: When she's not blogging about being an Adventure Mom Kristin Sokol authors TheVocalSokol.com, a blog dedicated to helping women stay happy mostly by doing fun things.